'I'm Really Clara': Musical Explores The 'Flipside' Of Oklahoma's Patti Page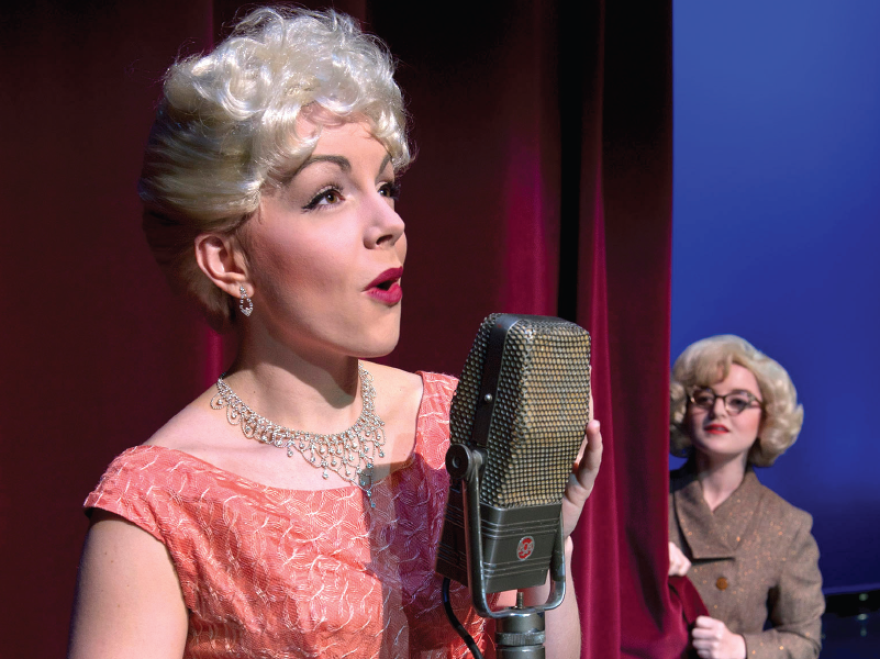 From the end of World War II to the mid-1950s – before the "Golden Age" of rock 'n' roll – classic pop ballads and carefully crafted novelty songs dominated the radio airwaves.
Among the best-known of these clear-throated singers with a penchant for the dramatic was Oklahoma-born Clara Ann Fowler, who was billed as "The Singin' Rage, Miss Patti Page."
Double Track, Double Life
Page scored her first Billboard chart hit in 1947 with "Confess." What sounds like a simple, sad song with standard jazz backing was actually something of a technical marvel since both voices actually belong to Page.
The doubling, or overdubbing, of her voice was a new technique at the time and put to good use on many of her songs, including her 1950 signature work, "The Tennessee Waltz."
http://youtu.be/_Ek3eCbfqp0
Greg White, the Director of Musical Theatre at the University of Central Oklahoma, created Flipside: The Patti Page Story – a musical inspired in part by the divergent sounds found on the record that secured Page's place in musical history. But he says "The Tennessee Waltz" was actually the B-side to an over-produced track called "Boogie Woogie Santa Claus."
"Her onstage persona was in so many regards a construct of the industry," White says. "Really the heart of who is she is, which is of course her true self, which is Clara Ann Fowler was "The Tennessee Waltz." In that that regard, that's where the title came from."
Inspired By Ignorance
Years ago, White and a group of friends had just seen a musical based on the life of Patsy Cline.
"Someone said, 'I think Patsy Cline had more hits than anyone else,' and I said, 'Well not more than Patti Page," White says. "And there was kind off of a silence at the table and someone said ' I don't think I know who Patti Page is.' And it really planted the seed that perhaps her image, perhaps voice, perhaps who she was could be lost and years later I started thinking should do some sort of tribute show to her'."
Fast-forward to 2007, when Oklahoma celebrated its state centennial. During a party after the gala event, White planned to pitch his idea to Page. But she was nowhere to be found.
"There was an empty chair next to me and gentleman walked up and said 'Is this seat taken?'" White says. "I said, 'No, please have a seat.' I turned to him and said 'How are you doing?' And he introduced himself as Patti Page's manager."
Meeting His Muse
Two weeks later, White was on a plane to Nashville. He described Page as genuine, with a beautiful spirit, but quiet and very private. He asked her about her greatest regret.
"You would see the wheels turning and she said, "I shouldn't have given up my name. I'm really Clara Ann Fowler,'" White says. "And I realized it's almost like two different individuals here."
That epiphany solved another problem of playwriting – how to accomplish the overdubbing onstage during a live musical.
"I started thinking, 'Maybe there could be another character that does it'," White says. "It would be very effective if there were two Pattis, and then I thought, 'These pieces are starting to fit together here.'"
White realized his dream of telling Page's story on stage in April 2011. In Flipside, two leads represent different sides of Patti Page, each at different stages of her career and life.
"At the top of the show, Patti returns to the KTUL radio station where she got her start, she became Patti Page," White says. "At the very beginning of the show that KTUL is celebrating some type of anniversary and by mistake, Patty is brought to the old KTUL, the place where she either found herself or lost herself."
White's depiction of what he saw as Page's inner conflict struck a chord with audiences, and in 2012 Flipside was one of five shows chosen to compete in the Kennedy Center American College Theater Festival, where it garnered 18 awards including Best Actress and Best Musical.
http://youtu.be/uoWASKOgC-w
This success led to an off-Broadway run before some of the show's most enthusiastic audiences, but White says these accolades pale in comparison to the endorsement he received from his subject.
"Her acknowledgement is the most gratifying," White says. "I think certain things are meant to be, certain things happen for specific reason. The day after we closed the show in New York, Patti passed away."
Flipside: The Patti Page Story opens Wednesday, March 12th at 7 p.m. at Oklahoma City Community College.
-------------------------
KGOU relies on voluntary contributions from readers and listeners to further its mission of public service with arts and culture reporting for Oklahoma and beyond. To contribute to our efforts, make your donation online, or contact our Membership department.