6 Things To Know About This Year's Red Earth Festival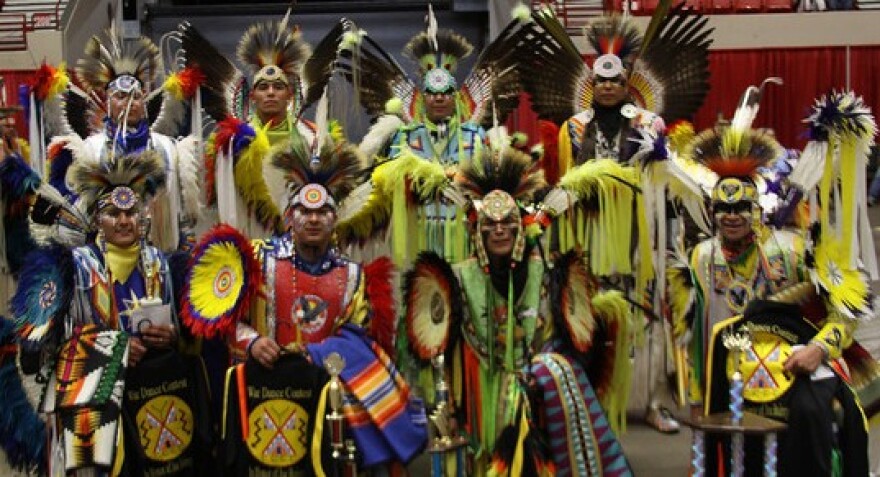 Thursday, June 5, marks the beginning of Red Earth Festival, now in its 28th year. And this year marks a new direction and new location for the 3 day festival.
HISTORY:
In its nearly three decades of existence, Red Earth Native American Cultural Festival has grown into one of Oklahoma's more recognized and anticipated Native American cultural events. USA TODAY named the Festival one of 10 Great Places to Celebrate American Indian Culture. In 2012, more than 1200 American Indian artists, dancers and singers from over 100 tribes throughout North America gathered to celebrate and showcase the richness and diversity of their heritage.
LOCATION:
2014 marks a change of venue for Red Earth. With the OKC Thunder beyond regular season play, Red Earth organizers were unable to guarantee arena space in the Cox Convention Center.
"We were kind of a casualty of the success of downtown Oklahoma City with the Thunder being so successful in basketball, national media utilizing so much of the Cox Convention Center… we couldn't get our arena space guaranteed because they have the first right of refusal," said Eric Oesch, Red Earth Deputy Director and Director of Communications. "We had to find a new location."
Red Earth turned to one of the largest native owned (Chickasaw Nation) venues, Remington Park, located in northeast Oklahoma City.
EVENTS:
In past years Red Earth has followed the usual powwow format, with a grand entry, a few inter-tribal dances for everyone to join in on followed by contests and more inter-tribals. But without the arena design and seating that was available at the Cox Convention Center, organizers were forced to rethink the event structure.
Oesch said, "Our dance is changing this year and that's an exciting thing."
The powwow has morphed into a strictly contest powwow. Grand Entry, when all competitors dance into the arena, will be at noon on Friday and Saturday. Preliminary contests take place Friday with winners announced at 6 p.m. Saturday.
"We'll be naming Red Earth national champions in Men's Fancy War Dance and Women's Fancy Shawl Dance," Oesch said. "We wanted to showcase the best of Oklahoma and we think these two dances are very significant to the Red Earth Festival and to the state."
These two categories are flashy and fast, requiring a certain amount of athleticism, knowledge of intricate steps and exact endings to many native songs. Stopping on time is imperative.
"We doubled our prize money and doubled the number of places that people can win. Red Earth Festival this year is going to feature some of the best Indian dancing in the country because we expect the best to be in that competition," Oesch said. "We'll have two different age categories, adult and teen, in both men's and women's."
Patrons can also witness an award-winning exhibition of hoop dancing by Lane Jensen and the Jensen Family Hoop Dancers. Hoop dancing is a form of storytelling through dance. A range of four to 30 hoops are manipulated to look like symbols, animals or birds by the dancer. Lane Jensen won third place at the 24th Annual Heard Museum World Championship Hoop Dance Contest earlier this year.
ART:
As is the tradition, the Red Earth Art Market will open the festival on Thursday, June 5 at 6 p.m. An award for Best Of Show will be presented at that time with the public invited to browse the show until 10 p.m. Contemporary art, such as sculpture, painting and graphics will be on display as well as more traditional native art forms; beadwork, basketry and jewelry.
FOOD AND OTHER ACTIVITIES:
"This will be the first time in years that we've been able to have our own food booths," Oesch said. "So we're talking with a lot of different vendors about have authentic native foods available.
Food will be served out on the plaza side with the track, with continuous live music going on. Rock bands, blues bands, and some rockabilly bands featuring American Indian musicians will add to the atmosphere of the festival.
PARADE PREVIEW:
Friday, June 7, the Festival Parade starts at 9 a.m. in downtown Oklahoma City. Tribal representatives as well as dance competitors will be in full regalia for the parade.
"It will circle the Myriad Botanical Gardens as it did last year. That is a great place to have it because the park is so beautiful, shady and lots of great curb space for people to watch the parade," Oesch said.
________________________________________
KGOU relies on voluntary contributions from readers and listeners to further its mission of public service to Oklahoma and beyond. To contribute to our efforts, make your donation online, or contact our Membership department.