February Revenue 18 Percent Below Projections; Senate Approves Supplemental Funds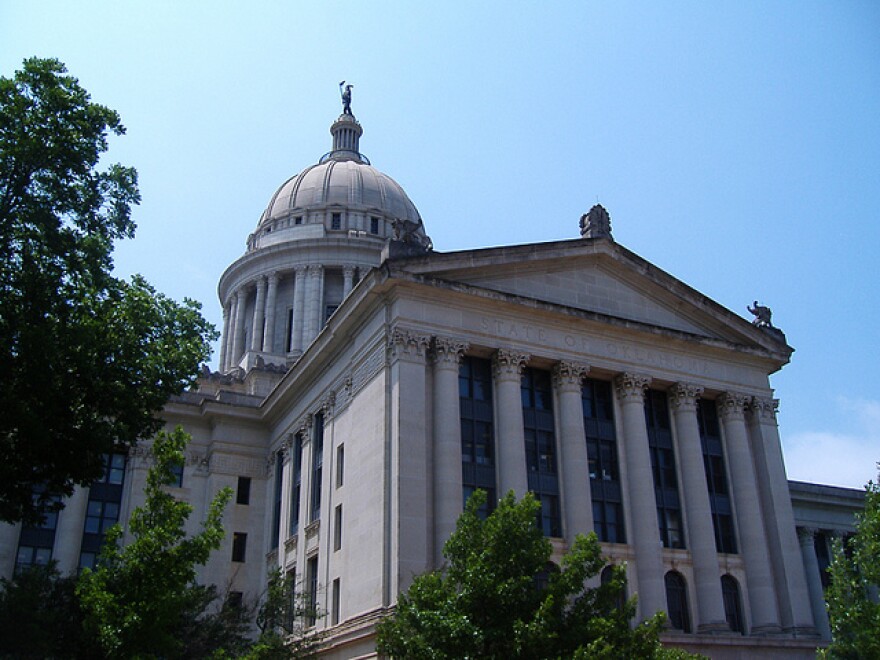 Oklahoma revenue collections fell 18 percent below projections in February, and were 25 percent lower than collections in the same month last year.
That margin is the widest gap below the estimate this fiscal year, according to the Office of Management and Enterprise Services.
Last month's General Revenue Fund collections totaled $225.6 million. That's $49.4 million less than the state's official estimate and $75.9 million less than collected in February 2015.
"March's deepened midyear revenue failure reduction was necessary because the rest of the year is projected to look a lot like February," OMES director and state finance secretary Preston Doerflinger said in a statement. "It bears repeating that the most responsible way out of this is by adding stable, recurring revenues into the next budget as the governor proposed and is actively discussing with Legislature."
Gross production tax revenue collections equaled less than $5 million in February 2016, or over 83 percent less than official projections for the year, and over 83 percent less than last year. The largest drop came in oil production collections. In February 2016, the state collected $470,871 from oil production, compared to $22,148,033 last February - a decline of nearly 97 percent. Natural gas production collections of $4.5 million were nearly 70 percent below the estimate and about 45 percent less than last year.
In December, the Board of Equalization declared a revenue failure that resulted in 3 percent cuts to agencies for the remainder of the fiscal year. The board issued a second revenue failure in February, that increased the cuts by another 4 percent.
The Senate approved supplemental appropriations on Tuesday to provide $72 million in emergency funding for the Department of Education and the Department of Corrections. The supplements were approved less than a week after Gov. Mary Fallin and legislative leaders announced an agreement to tap into the state's Rainy Day Fund.
"Education and public safety are top priorities in the state Senate, which is why we've worked hard to shield them from the severe budget cuts other agencies have experienced during these tough times," Senate president Pro Tem Brian Bingman said in a statement. "Unfortunately, state revenues continue to suffer because of the dramatic downturn in oil and gas prices which is why more cuts are necessary to maintain a balanced budget this fiscal year. Using Rainy Day Funds will lessen the impact of these budget cuts on students, while also preventing cuts at state prisons. I appreciate my Senate colleagues for acting quickly on these measures to help these agencies."
The supplemental appropriations now go to the House.
The Oklahoma Historical Society announced on Tuesday that all employees will have a two-day furlough due to budget cuts. Executive director Bob Blackburn said in a statement his agencies exhausted all other options to save money.
"This was a last resort," Blackburn said. "But we have exhausted all savings such as a hiring freeze, deferred maintenance, and the cancellation of several contracts.
Blackburn said the revenue shortfalls have hit the Historical Society more than other agencies.
"Almost one-third of our appropriation is funding to make bond payments on the Oklahoma History Center," Blackburn said. "But those funds are not shielded from revenue shortfalls. We have to make the payments, which transfers that cut to the operational side."
Employees at other agencies have also felt the effect of the budget cuts.
The Oklahoma Military Department of the Oklahoma Department of Veterans Affairs both received approvals to reduce the size of their workforces, eCapitol's Shawn Ashley reports:
The Department of Human Services offered voluntary buyouts to more than 500 staffers in January. Fewer than expected accepted the buyout offers and a second voluntary buyout to 214 employees was offered in March, according to OMES records. The Department of Health has offered voluntary buyouts to 100 staff members and the Department of Tourism and Recreation to four employees, the records show. The Senate also made a voluntary buyout offer to its staff members, excluding members' executive assistants and leadership staff, last week.
Fallin signed her first bill of the legislative session last week, merging the Will Rogers Memorial Commission into the Oklahoma Historical Society.
KGOU is a community-supported news organization and relies on contributions from readers and listeners to fulfill its mission of public service to Oklahoma and beyond. Donate online, or by contacting our Membership department.