How Oklahoma's cannabis business could change if recreational weed is legalized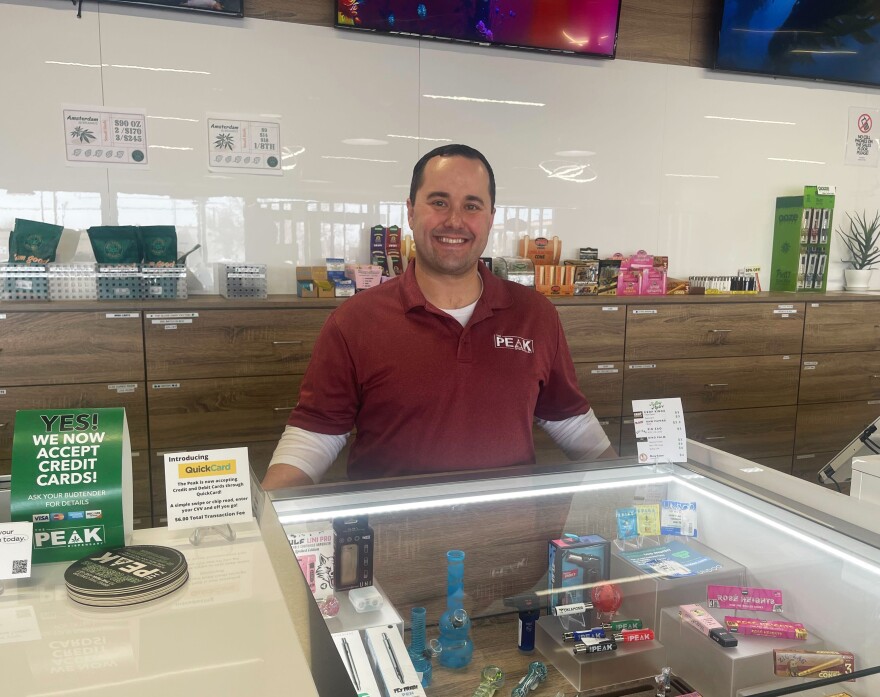 When Oklahoma voters passed State Question 788 in 2018, things were a little chaotic.
People had questions about how pot businesses would grow in the market. And with very little regulation, the number ofmarijuana businesses exploded. By 2020, Oklahoma hadmore businesses licensed to sell pot than any other state in the country.
"There was a lot of early confusion about what's allowed, what's not," said Blake Cantrell, CEO of The Peak dispensary in Oklahoma City. "Granted, it also came with a lot of excitement. Everybody, including patients, was excited about the new program, couldn't wait to see how it developed."
Now, similar questions are brewing. Voters will head to the polls March 7 to decide onState Question 820. The state question would make it legal for people older than 21 to use pot recreationally, grow up to six cannabis plants, and create a pathway to expunge some prior marijuana offenses.
It's an exciting time to be in the business, Cantrell said.
"What we're doing today is shaping what this industry will look like, at least in Oklahoma, forever," Cantrell said. "So having the opportunity to be able to craft what that looks like, to structure the rules that will be expected to follow forever, is a really unique and cool opportunity."
Switching From Medical To Recreational
Cantrell says the last four years have really allowed the industry, businesses and state to have a sort of foundation to work on - and he says businesses like his are ready to serve more customers.
"We're excited for it," Cantrell said. "We see this as a huge benefit to the industry and to the state."
At a virtual town hall meeting about State Question 820 hosted by the ACLU in January, panelists said legalizing cannabis would help businesses in the state compete against an illicit market.
Ryan Kiesel, a former state lawmaker and director of the ACLU of Oklahoma, was an advisor for State Question 820 and a speaker at the ACLU virtual town hall.
"[By passing SQ820] We're going to make the businesses that are currently following the law…. more competitive with the illicit market and operators that aren't fully compliant with the laws and regulations," Kiesel said. "I think that we're going to drive a lot of that [illicit] market out of Oklahoma."
And how? Kiesel says that having more demand is one of the answers.
"You know, just the simple economics of it, we have a lot of supply that's being produced in Oklahoma, but we have a limited number of people that we can sell that supply to and… I think that that's a real issue," said Kiesel.
According to the Oklahoma Medical Marijuana Authority — the state agency that oversees Oklahoma's cannabis industry —there are more than 373,000 medical marijuana patients in the state. There are also more than 7,000 growers and more than 2,700 dispensaries.
A bill last year,HB3208, that was passed by the state legislature and signed by Gov. Kevin Stitt put a moratorium on processing applications for new dispensary, grower and processor licenses for up to two years beginning last August.
And lawmakers have said it is difficult to reign in the industry after voters passed SQ788 — legalizing medical marijuana — in 2018.
SQ788 imposed an excise tax of 7% for medical marijuana customers. That money goes to a couple of places: first to OMMA's authorized budget, then 75% of excess revenue from the tax collections goes to Oklahoma's general revenue fund and can only be spent for common education. The other 25% goes to the state health department to fund drug and alcohol rehabilitation and prevention.
What Have Businesses Built?
Arshad Lasi, a 23-year-old CEO of the Tulsa-based Nirvana Group, has been selling weed products for four years.
The Nirvana Group operates a warehouse that is one of the largest smoke shop, glass, paper, vaporizer, and packaging distributors in Oklahoma, servicing more than 500 dispensaries. The business also operates a 30-acre cultivation and extraction facility and several of their own dispensaries.
Lasi said following the passage of SQ788, there's been massive innovation and product development, and Oklahoma has grown into one of the largest cannabis markets in the country.
"We feel like we've reached that level of maturity where the industry is ready to take on recreational and the complexity of whatever that's going to bring," Lasi said.
But even though he thinks Oklahoma's cannabis market is ready for adult-use, Lasi said there's still some hesitation from medical-use consumers who have been served the last four years.
"There's consumers who are afraid of what's going to happen," Lasi said. "They think that maybe prices will rise or quality will decrease, or recreational or adult-use consumers will get more preferential treatment because that market is a little bit bigger."
Lasi said there are some customers who are not satisfied with the way the medical market is operating - and the uncertainty of what would come from opening up to recreational users and weed tourism can also make some business owners anxious.
"I think there's also some business owners who have this perception that when adult-use or recreational passes, out-of-state - multistate operators or national brands come in and kind of dominate the market because their investors see that this is, you know, going to be profitable," Lasi said.
But he disagrees with some of those worries.
"I think that adult-use just increases the market share for everybody and the folks who've been doing things right and have been successful in Oklahoma already who started here and built their businesses here just like us, will see the benefits."
SQ820 also has a provision that would allow existing Oklahoma business owners to have two years to acquire new licensing through the OMMA to serve recreational customers. And while many businesses will likely want to open up to recreational use, Lasi thinks that not everybody will be able to in the future.
Meanwhile, back at The Peak in Oklahoma City, Blake Cantrell says he isn't worried about big, out-of-state companies taking an interest in Oklahoma if recreational passes and taking over the market because of the moratorium on new marijuana business licenses.
"Even if they wanted to, it would have to be in kind of a backdoor route. And most major MSOs, multistate operators, have no interest in doing anything but by the book," he said.
Cantrell, who is also the president of the Oklahoma Cannabis Industry Association, is working with the state to make for a smoother transition if SQ820 passes.
And for those concerned about even more dispensaries spread out across town, that the current moratorium discourages that too.
"If you were one of these entities who rushed in at the last second right ahead of the moratorium to snap up a license," Cantrell said. "Those licenses would be ineligible to sell to rec. So not only does it not increase the number of dispensaries, it even disincentivizes new entrants because they were trying to game the system."
This report was produced by the Oklahoma Public Media Exchange, a collaboration of public media organizations. Help support collaborative journalism by donating at the link at the top of this webpage.