Capitol Insider: Vaccination Bills Moving Through Legislative Process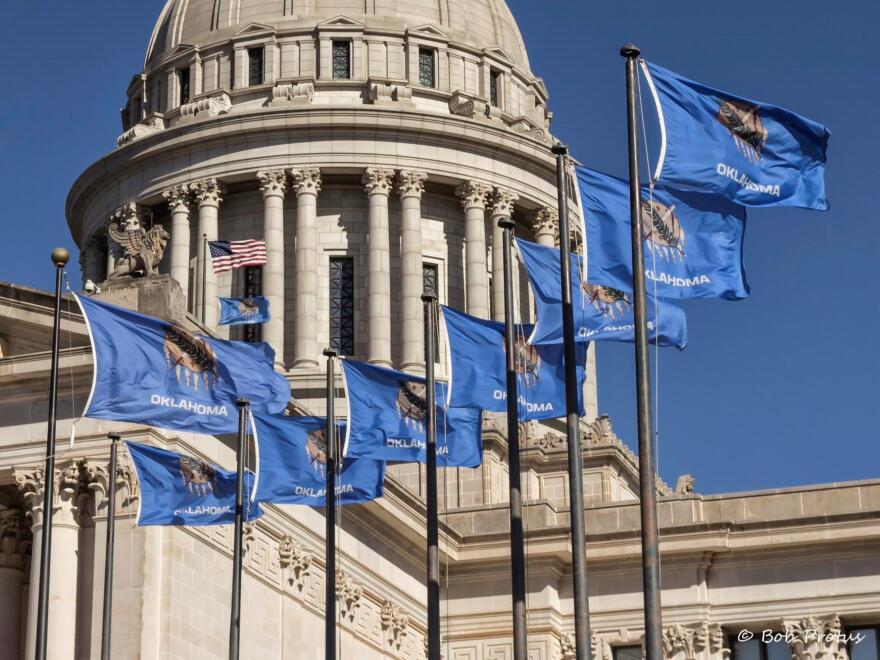 Bills regulating vaccinations were among the most popular filed in the Oklahoma legislature this year and already lawmakers are indicating the extent to which they will go in establishing vaccine policy.
TRANSCRIPT
Dick Pryor: This is Capitol insider, your weekly look inside Oklahoma politics, policy and government. I'm Dick Pryor with Quorum Call publisher Shawn Ashley. Shawn, there were more than 50 vaccine-related bills filed this session. Two of those were considered in a Senate committee on Thursday. One passed, one was laid over. What would they do and why did one receive significant opposition?
Shawn Ashley: Senator Nathan Dahm's Senate Bill 1157 makes an individual eligible to receive unemployment benefits if they are terminated or placed on unpaid leave for being unvaccinated or not in compliance with their employer's vaccine mandate. It also requires noncompliance with an employer's vaccine mandate not to be considered misconduct for purposes of determining qualifications for unemployment benefits.
Now, that bill passed eight to four and goes to the full Senate for consideration. Senator Blake Stephens laid over Senate Bill 1128, which creates the Employee Liberty and Freedom Act. It would make it unlawful for any employer to mandate any employee submit to or take any vaccination, injection, shot or medication for any virus, disease or condition as a condition of their continued employment.
Now, there were a lot of questions during Thursday's Senate Business Commerce and Tourism Committee meeting, and many of those came from Stephens' fellow Republicans on the committee. Senator Jessica Garvin, for example, asked about vaccines required in government contracts and those that we've been required to take for a long period of time. Senator Lonnie Paxton asked whether the bill might impact federal funding, such as Medicare dollars that go to rural hospitals and to nursing homes. Perhaps seeing the writing on the wall, Stephens laid it over, perhaps saving it for future consideration.
Dick Pryor: The House Elections and Ethics Committee considered several election bills, including three bills that potentially could change dates for elections. Now Shawn, the one that passed out of committee was a so-called trigger bill. What would it do?
Shawn Ashley: Yes, Representative Denise Crosswhite Hader's House Bill 3232 would decouple Oklahoma State and local elections from federal elections if new federal laws are put in place that would compromise Oklahoma's voting process. For example, there's proposed legislation that would require states to continue to accept absentee ballots for several days after an actual election day while Oklahoma law requires absentee ballots be received the same day the polls close at seven p.m. on Election Day. Crosswhite Hader's bill would trigger Oklahoma to separate its elections from the federal elections, and what you would have would be local and state elections run under Oklahoma law and federal elections for Congress, U.S. Senate and the president run under federal law.
Dick Pryor: Two other bills would require certain levels of minimum voter participation for an election to be valid under Oklahoma law. Why does the author consider this to be an issue that needs to be addressed?
Shawn Ashley: Those were House Bill 3234 and House Bill 3236, also by Representative Crosswhite Hader. The representative said the purpose of the bills was to encourage local governments to hold their elections on traditional election days like June's primary election date or November's General Election Day. Crosswhite Hader said people know when those traditional election dates are and turnout is likely to be higher compared to an election held, for example, in September. But committee member Representative Anthony Moore noted that the highest turnout for an election in his district has only been thirty seven percent. Below the threshold. And he said I think it would be wrong to hold myself to a different standard than other elections.
Dick Pryor: Stephens' vaccine bill and Crosswhite Hader's election threshold bills did not advance, but that does not mean they are dead for this session, and that could apply for a lot of bills.
Shawn Ashley: That's right, by laying over Senate Bill 1128, Stephens avoided possible final action on the bill. If it had received a do pass motion and that motion failed, not only would his bill have died, but so too would bills having the same effect and covering the same specific or substantially similar subject matter, according to Senate rules. And by not going to a vote, Crosswhite Hader could bring her's back for possible amendment and consideration in House committee.
Dick Pryor: Senate President Pro Tem Greg Treat's Oklahoma Empowerment Act narrowly survived in the Senate Education Committee. This is the bill that would allow public funds to follow students to private schools. We already know it faces a rocky road in the House, and it's facing a chilly reception in the Senate.
Shawn Ashley: The bill's double assigned, so it faces another vote in a future Senate Appropriations Committee meeting. And if it makes it out of that committee, then it must be approved by the full Senate before it can cross the rotunda and land in Representative McCall's hands. (Representative Charles McCall is Speaker of the Oklahoma House of Representatives. McCall has indicated the bill is not a priority of his caucus.)
Dick Pryor: Thanks, Shawn.
Shawn Ashley: You're very welcome.
Dick Pryor: And we would like to hear from you. Email your questions to news@kgou.org or contact us on Twitter @kgounews and @QuorumCallShawn. Until next time, with Shawn Ashley, I'm Dick Pryor.